Last week we attended the 4th annual Big Data and Analytics Summit in Toronto. Our takeaway? Use big data to predict, consolidate and, ultimately, make a profit. But don't be too quick to ask most businesses what big data means. Organized by research organization Strategy Institute, the two-day summit addressed the ever-elusive, and always-evolving concepts of AI, Machine Learning, IoT, and data & analytics.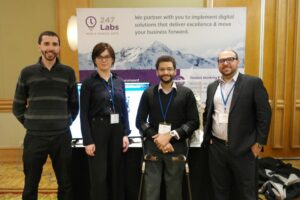 Our partnership with Unilytics was extremely successful, and the 35-plus speakers, who discussed topics like AI, Machine Learning, and IoT, have shown the evolution of these three categories and their importance for companies, today and tomorrow.
Among the many speakers, here were some of the standouts that I thought provided thought leadership:
Jake Frievald, VP of Product Marketing for Information Builders discussed use cases for big data and IoT remarking how twenty percent of c-level execs were very satisfied with the value they have recognized in investing in data and analytics, and how big data and analytics need to find operational use cases in order to drive value. He explained that the Internet of Things (IoT) is now defining these use cases as well as new opportunities, and showed case studies and industry research to support this.
Mike Milkovich, Chief Technology Officer, Brightpeak Financial discussed how Big Data and behavioural science will shape the future of marketing. Spending and saving is a rich area of exploration in big data research. What's missing, however, is the way businesses take action on their attitudes about spending and saving. He spoke about the importance triggering a change in behaviour and gave examples on how behavioural change is necessary for driving outcomes.
Christopher Buchholz, Senior Strategy Consultant, Chief Analytics Office, IBM discussed Machine Learning and its potential to impact how business operates. He emphasized how getting there will take time and work, and outlined key steps that need to be taken and the questions that should be asked in order to consider.
Asking most companies what they think of data, will often elicit the response: "It will solve our problem, but we're not sure how."
Since 2011, Google searches for "big data" have surged. Yet, in reality, many companies still aren't using big data to make business decisions. Most companies don't know what to do with the data that already exists in their business.
Impacting Business with Data & Analytics.
I left the summit with the sense that many companies are still puzzled about how to connect their companies to data-driven profits. And, while the road may be long to achieving this connection, this feat cannot be ignored.
This is why at 247 Labs, we believe that creating digital transformations, and ridding companies of tedious, repetitive processes is a step forward in generating more data. And, with more data, it becomes possible to predict behaviours and, ultimately, close more deals. AI, Machine Learning, and IoT are the future for forward-thinking companies that want to forge ahead in their respective fields. And, data can make this happen.
How are you utilizing the data you are collecting? Are you making more informed decisions because you have a better view of your prospects and customers? It's time to consolidate your data to make better decisions and take your business to the next level.