The Ontario Centres of Excellence (OCE) Discovery Conference 2018 had many bold and fascinating presentations around technology. But few could beat the kickoff presentation by Sophia, the Humanoid – a great example of Artificial Intelligence in Toronto. The social humanoid provided some unique insights in the presentation, which include:
Robots are intended to solve problems and not create them

Robots are still a long way off from world dominion

She acknowledged that unlike human brain, robots' brains aren't 100% self-learning

She lauded Canada's tech community working behind disruptive innovations like 5G testing
The highly evolved Sophia is a 'living' testimony to the massive proliferation of AI. Artificial Intelligence has various exciting applications for multiple industry verticals like healthcare and automotive. The OCE Discovery platform is known for promoting forward-thinking new ideas, and Sophia has proved to be a worthy inclusion to the itinerary.
She managed to create quite a stir among the 500 exhibitors and 3000+ participants of OCE Discovery 2018, which also included known names in Artificial Intelligence in Toronto like 247 Labs.
AI – the Success Factor behind Sophia
Innovative technology like AI-based robotics and deep learning is what will drive technology in the near future, and we at 247 Labs believe that Sophia is a wonderful illustration of this. It is no surprise that the market intelligence company, IDC, predicts a Compounded Annual Growth Rate of 50.1% for global spending on AI development to reach $57.6 billion by 2021.
84% of the enterprises believe that investing in AI will result in better competitive advantages to them. In the same Statista report, 63% say that the pressure to bring down costs will need them to use AI.
Artificial Intelligence in Toronto
Artificial Intelligence will have massive influence in these enterprise areas:
Patient data processing

Image recognition and tagging

Text semantics and sentiment detector

Predictive maintenance

Enhanced cybersecurity via machine learning

Smart HR recruitment
At 247 Labs, our competencies cover a range of exciting solutions in Artificial Intelligence in Toronto. Want to check out how our innovative AI-based solutions spark up phenomenal business value? Then check out these two exciting applications of Artificial Intelligence.
1 – Image recognition
AI-based systems have been proving to be more accurate compared to humans regarding the perception of images. Hence it is no surprise that it is being used in various aspects around graphics like image classification, image tagging, and image recognition.
The image classification tool at 247 Labs also ensures quick and accurate image classification. As an evolved AI solution, it drives superior digital asset management. The tool employs machine learning and provides useful characteristics present in an image. Classifying based on such annotations or tags helps in grouping together multiple images into a single category for better analysis.
For instance, a youngster smiling (GIF's 3rd picture) will carry these tags – Smile, Dentistry, Person, Coonskin cap, Headdress, and Gray colour. This classification can be used to add the image to the right category provided by the AI system.

2 – Text sentiment detection
Using AI, you can decipher how people feel about your brand or product. Our proprietary text sentiment detection tool at 247 Labs has proven to be highly impactful as a solution for Artificial Intelligence in Toronto. It lets brands connect better with their audience and leverage this engagement to the maximum.
It classifies the results based on three key characteristics:
Personality – It depicts what type of personality is the comment or text that mentions your brand or product or services. Characteristics such as agreeableness, openness, and extraversion are displayed when the text speaks about Sophia the Robot (we analyzed the first 100 words of the introductory text to find this out)

Needs – It depicts the desirable traits identifiable with the text. Words like curiosity, practicality, and self-expression fit in when we analyze the text for Sophia.

Values – The core values identified in the text are analyzed by the Artificial Intelligence tool. It showcases the polarity of opinion or viewpoint. If it is majorly negative then as a brand owner, you need to carry out steps to rectify this. This shows how valuable the text sentiment detector is in giving the right direction to your online visibility and brand positioning.
An AI-powered chatbot is another example of context-sensitive and meaningful conversations enabled by us at 247 Labs. Here is the chatbot in action: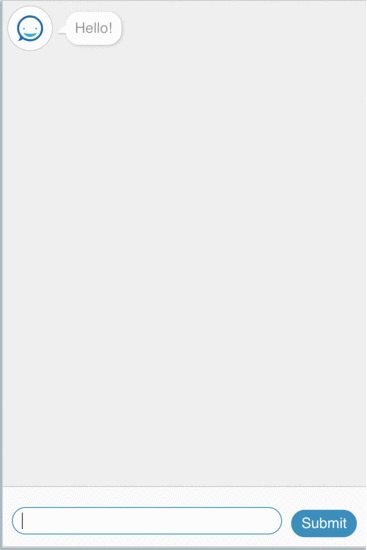 About 247 Labs
At 247 Labs our team of Artificial Intelligence Toronto experts span designers, developers, consultants, and business analysts. Collectively, we bring to you cutting edge AI solutions that are not only smart but also offer incredible business value.
Artificial Intelligence has the power to transform life as we know it today. The two use cases of image classification and text sentiment detection amply showcase how we can help you unlock new potential and help brands and businesses.
Connect with us to explore more on our expertise in Artificial Intelligence in Toronto.