Last time, we had a look at the exciting developments around AI in Google I/O 2018 held at Mountain View, CA. Today, we continue with our coverage of the event with hot topics that kept the world riveted. At the I/O 2018, updates on Artificial Intelligence and demonstrations of the new Google Assistant fascinated the audience. In addition to AI, new Google AR 2018 functionalities also elicited much interest.
The 3-day event which commenced on May 8th provided unique insights on Augmented Reality. It demonstrated the potential of combining one of their main products – Google Maps – with AR. Together, they are can substantially change the way we travel. It also showed us how it unlocks an entirely different way of getting around places using navigation.
Google Maps with AR in 2018
Let's get to the core of I/O 2018 when it comes to AR. The integration of AR with Google Maps has been one of the big highlights.
The integration is rather a simple one as it is just taking the camera's view as a starting point. It then overlays it with complex yet high-performance AR directions to guide the traveller. To avail of the augmented navigation experience, all you need to do is to point your phone in a specific direction. Google Maps, paired with Google AR, would give you a street view data and augmented images to boost your experience and show you the way.
It features an animated fox that jumps around on your screen and prompts you in the right direction as you progress towards your destination. By doing so, Google Maps will help you with turn-by-turn guidance when you are on the go. This welcome update is in line with Google's endeavour to enhance user experience and make navigation more interactive.
Compatible and Future Ready Hardware – a Key to Google AR 2018 Success
In another significant update, Google is reportedly backing its latest innovation with the best in class devices. This way, the company can guarantee an incredible experience to users all over the world. Google has been working on Augmented Reality headsets to make navigation more interactive. It will now use Qualcomm chips for enhanced processing prowess. This Google AR 2018 headset will be self-contained and powered by its chipset. With this architecture, it enables the technology integration to function by itself. Hence, it does not rely on tethering to other devices. The AR headset will have its own set of cameras and microphones.
To which way is AR leading us in 2018?
The recently concluded event clearly shows that along with the new Google AR 2018 features, AR applications have tremendous potential. It makes the user experience more straightforward and practical. Needless to say, this type of integration of AR with common-day applications like Google Maps will surely elevate the digital experience. There are a lot of exciting things happening in the AR domain.
About 247 Labs
We are a digital solutions provider that works together with startups and enterprises to achieve their goals through digital transformation. We help your business by bringing AR applications to the fullest. Talk to us at 247 Labs and see the immense potential that awaits your business. Our team of developers, coders, consultants, and analysts will work as a cohesive unit. With this, we help you deliver a memorable AR-based user experience to your customers.
Web-based AR plug-in to Super Impose Online Items into the Real World
At 247 labs, we build Augmented Reality solutions for many companies across multiple industries. Our AR solutions include developing mobile apps powered by AR technology that enhance the user experience while imposing animated objects into the real world.
On top of that, we are one of the few companies that can also create web-based AR plug-ins. By doing so, the user isn't limited to have the immersive AR experience only on their phones. It can be used on the desktop as well, and the best thing: the user doesn't need to download anything. It works right from their internet browser!
Here's an example of a web-based AR plug-in developed by 247 Labs to a furniture retailer. Can you guess which piece of furniture was augmented to the screen?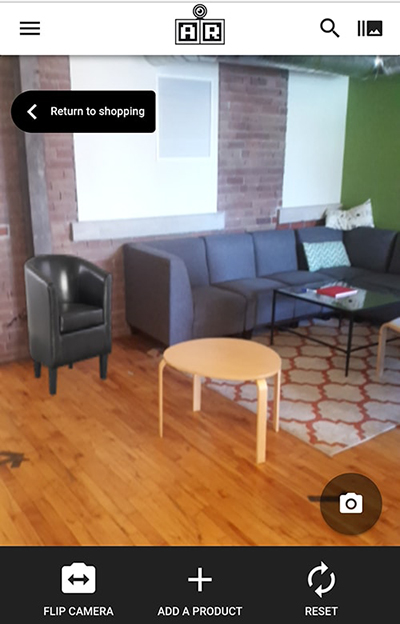 By using our web-based AR plug-in, their clients can have a whole new immersive experience trying out in their own home every piece of furniture they like. They can browse through hundreds of different couches, chairs, tables, beds and see how the entire house furniture will look like, from their phone screen. The extra convenience factor of not having to download an app makes the experience even more attractive and appealing to the customer.
Connect with us to explore more on our expertise in Augmented Reality and how you can improve your business.