Most of the tools necessary for building an excellent app or platform are available for everyone. But finding people you can trust to use those tools effectively is much harder. Fortunately, 247 Labs is a team full of professionals sensitive to a market's needs that need for reliable partners.
This approach was one of our guiding principles when we began, and our clients have responded positively to our efforts. This is proven by all the positive feedback we've been getting in the form of five-star reviews.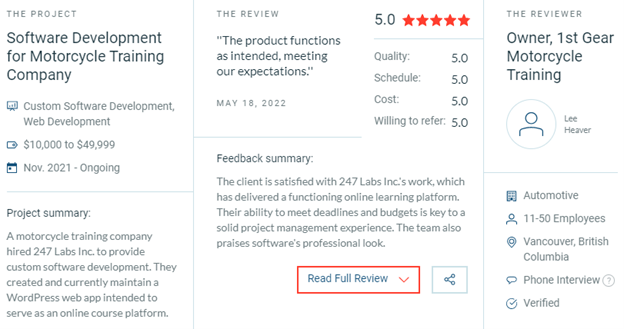 The company we worked with for this project is a motorcycle training company. They were looking for a vendor to help them develop the framework and programming for an online course they wanted to offer on the website.
We responded to their application on UpWork, and they decided to partner with us after we showed them what we could do for them. Our main responsibilities included helping with custom software development and keeping up with the agreed-upon schedule.
While we can't share much more information on the project here, those interested can read the full review on our Clutch profile. There is one development that came from the publication of this review that we want to highlight.
Thanks to our high cumulative score over the years, we've been included as a leading company on Top Design Firms (TDF). They are a B2B platform that creates rankings of the top performers in every industry worldwide.
This is a big boost for the growth of our team. First, as a high-traffic platform specializing in a B2B audience, our chances of getting found by potential clients grows significantly. Second, our placement on the ranking will immediately establish us as experts in the industry and one of the best choices for any project. Finally, this will motivate our team to strive for even greater heights as we see the industry's peak is within reach.
We are confident that we can do this in the near future. Our team already has all the skills, knowledge, and experience necessary to pull it off. All we need is the opportunity to show everyone what we can do.
Learn more about how creating learning management systems can be done easily with WordPress and fully customized with various programming languages by visiting our website today. Don't wait another moment to contact us so we can begin building your project as soon as possible.