Excellence has always been one of our company's main mantras since the start. As an internationally recognized app developer, we only want perfection for our clients; bringing their visions into reality is our goal. This approach in our operations enables us to build genuine and lasting relationships with our clients and partners.
Over the years, we've received multiple recognitions from different award-giving organizations and industry leaders. We truly feel humbled every time and the honor still feels surreal for us.
Despite the major hurdles faced by 2020, 247 Labs remained strong and determined for our craft. Because of this, our company was still able to bag some awards last year. In line with this, we can't believe that 2021 is just starting and yet, we're already snatching a major win.
We are really glad to announce that 247 Labs is once again hailed by Clutch as a leading company on the app development space.
If you're not familiar with Clutch, it's an independent business-to-business review platform headquartered in Washington, DC. Each year they rank and recognize the top players from different industries and regions. Just like us, they aim to provide credible results for the people. Our company is thankful for Clutch for this motivation to drive our year further.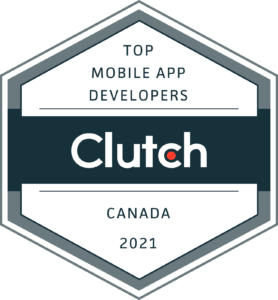 "We are honoured to be selected once again as Canada's top B2B App dev & design companies!"
— Boris Dehtiar, Senior Client Advisor, 247 Labs
In Clutch's recently released Leaders Matrix, 247 Labs is hailed as the number one app development company here in Ontario.
We are inspired by these achievements and by the reviews of our beloved clients. Their words assure us that we are doing a remarkable job. We are looking forward to achieving more milestones and receiving more great reviews like these:
"They're very good listeners. If they ever completed something that wasn't right, they worked really hard to correct the mistakes, even if it cost them more money. 247 Labs was committed to making us happy with the end product. That was the most important thing from my experience with them."
— Product Manager, Nonprofit Organization
"They were straightforward with expectations, and they focused us on what needed to be done. We had several ideas on where we could go, and 247 Labs made it all manageable. The communication went well, and the team's enthusiasm for the project was really high.
They were part and parcel to the creative part, and provided good insights along the way. 247 Labs was a very good fit for what we needed."
— Owner, Contrail Consulting Services
Do you have a project in your mind? Get in touch and let's start working together!