Mobile phones have evolved in such a way that people can do basically anything on it. This includes connecting with friends and family, planning leisure activities, and managing a business. Developing a mobile app has the potential of making your organization more accessible to your audience and potential customers.
Most people around the world carry around a mobile device anyway, and an app is less convoluted because navigating a phone is more streamlined and straightforward.
247 Labs Inc. can help you become more visible to people and potentially extend your reach on a global scale. Our experience in developing for a myriad of industries and award-winning solutions can help you build an excellent digital foundation for your company.
Recently, Clutch has recognized us as part of the 2020 leading agencies for mobile app development in Toronto, where we've taken the number one spot! This has been made possible because of the amazing support of our clients. This award not only legitimizes our organization, but it also deepens our connection with the people that helped us achieve it.
One of our most recent 5-star reviews is from an IT research and support firm that we have an ongoing partnership with developing their platform and web revamp. This is their experience: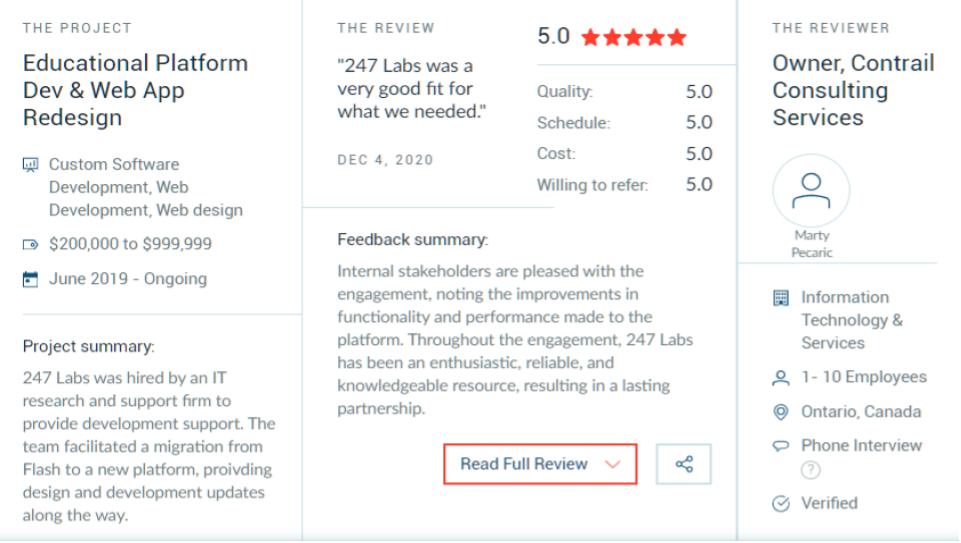 A client's "job well done" is already rewarding as it is. Their feedback is important because it keeps us motivated to improve and become better versions of ourselves. For us at 247 Labs Inc., nothing beats the approval of a satisfied client. This award is just the tangible proof of our hard work paying off.
Are you looking to take your business to the next level through software development? Talk to us now and we can help you acquire mobile visibility! If you're interested, you can visit our Clutch profile to see our portfolio and the rest of our reviews!