Headquartered in the heart of Toronto, Canada, 247 Labs is known for its relentless dedication to designing and developing award-winning solutions for businesses of all sizes. We are a top-notch team of UX/UI designers, business analysts, and experienced mobile and web app developers.
The key to our success is the phenomenal support of our clients who entrusted us with their invaluable projects. It's because of them that we commemorate this brilliant recognition today. During the esteemed The Manifest Most Reviewed Company Awards, 247 Labs was officially highlighted as one of the best-reviewed web developers in Toronto for 2022!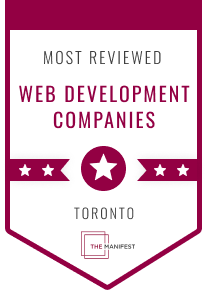 When we founded this company in 2013, it was clear to us that we needed to remain nimble and avoid becoming complacent. We cultivated our ability to adapt and thrive as the consumer market and the technology sector change. This determination is what helped us earn our clients' confidence and stamp of approval.

The Manifest is an independent business resource website designed to help browsers connect with trusted firms. The website's first company award highlights the amazing connections between B2B providers and their clients. Since it requires a lot to recommend service providers to anyone, this honor represents the confidence of our treasured partners.
We want to express our sincerest gratitude to everyone who believes in and supports 247 Labs. This team is built through the incredible partnerships and connections we've formed with all of you. We owe this fantastic award to your gracious support! Thank you!
As our name suggests, we're always here for you. 247 Labs is excited to work with you and deliver excellent results. Contact us today to find out more about our services.