As one of the top app development companies, we strive to create functional and reliable applications for startups, small and medium-sized businesses, and enterprises. We are proudly announcing that 247 Labs has been recognized in Clutch's annual listing – a list of the top B2B companies in the entire world.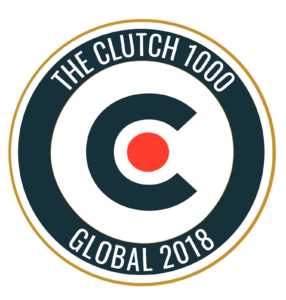 We partnered with Clutch, a company that publishes objective reviews from real clients, to gain insight into our products and services. Since joining in November 2017, we've gathered 20 reviews from our clients and thanks to their amazing feedback have earned our place as one of the top mobile app developers in Canada.
We believe partners act as an integral part of a company's quality. Luckily, our customers, recognize how highly we value them:
"Their speed was impressive. They delivered on time and accommodated any unexpected changes."
"They're a great team. I finally found a software development company that actually cares about understanding my business and goals and is willing to adapt to our requirements and budget constraints while giving us honest advice."
I was impressed by their friendliness, transparency, and leadership during the process as they walked me through what I needed to know.
Besides being highlighted on Clutch, we have also been featured on Clutch's sister site, The Manifest. The Manifest acts as a guide for buyers interested in embarking on the buying journey. Companies with a high standing on Clutch are included in the list of the top app development companies so we are extremely happy to be hand-selected by Clutch.
We thoroughly enjoy what we do and plan to never stop committing to our clients and the quality of our work for them. The future is not daunting here at 247 Labs, and we are propelling ourselves into the future full throttle! To learn more about our highly-rated services, make sure to check out our clutch profile and contact us for inquiries regarding your next development project.